Why is it so hard to come up with Christmas gift ideas for farmers? Every year, I find myself stumped and I know I'm not the only one to be on the struggle bus!
I'm basically 100% certain that the first thing my husband wanted to do once harvest wrapped up is over is make a gift guide with me.
This year, I grilled my husband for ideas that he thought farmers would like. I've gotta say he has good taste. After all, he picked me...😆
He very graciously sat down with me and answered 1,000 questions like, "how do they fit?", "what do you use these for" and on and on.
Most of these are practical gifts, but sometimes those are the best kind of gifts, especially for us farmer and rancher types.
So without further ado, here we go!!!
This post includes affiliate links from Amazon and other stores. I may earn a small commission at no cost to you if a purchase is made.
Christmas Gift Ideas for Farmers
These work gloves are water and wind resistant and my husband swears by them in the winter months. They keep his hands warm while still allowing dexterity to complete work on the farm.
Well that's a mouthful, isn't it???
I've been told these are great everyday work gloves for everything from driving tractors to hay and ranch work.
They're super flexible (I've been told) and help with gripping equipment and tools. I might just have to get me pair. I needed some after this year's harvest!
It's a well known fact that cold lunches and sandwiches can get boring. A reader suggested this Crockpot Lunch Warmer, which is genius!
The outside of this lunch warmer doesn't get hot, so you could use it in the cab of a truck or at a desk for a personalized size lunch or soup. The inside container is also dishwasher safe which is a huge plus!
I've got not one, but two recommendations for these overalls. So if your Mom is also looking for an idea to gift your , you can share!!!
Is it just me, or does every farmer have a pair or five of Carhartt overalls? These are our picks - because let's be honest, my husband is the one answering all of my questions here!
We like these because they have adjustable suspenders and a zip up leg and button enclosures, which is key to keep drafts at bay. They also have extra padding at the knee.
​​Carhartt Men's Zip To Thigh Bib Overall Unlined
Carhartt Men's Quilt Lined Zip To Thigh Bib Overalls
While some people might scoff at receiving a gift of socks, my Grandma always gave us socks for Christmas. Other gifts, too but always socks.
Years of my own sock gifting experience has taught me if they're the right socks, people will thank you.
Made in the USA, these Darn Tuff wool socks come in a variety of lengths from a crew sock to a mid-length...They're guaranteed for life, so how can you go wrong???
Okay, so this one was my idea but you probably already guessed that. The fact that it's from Etsy gives it away every time!
This leather key chain can be personalized however you like and gets rave reviews. There are several varieties to choose from including this heavy duty version and this more traditional version.
These make a great anniversary gift, too!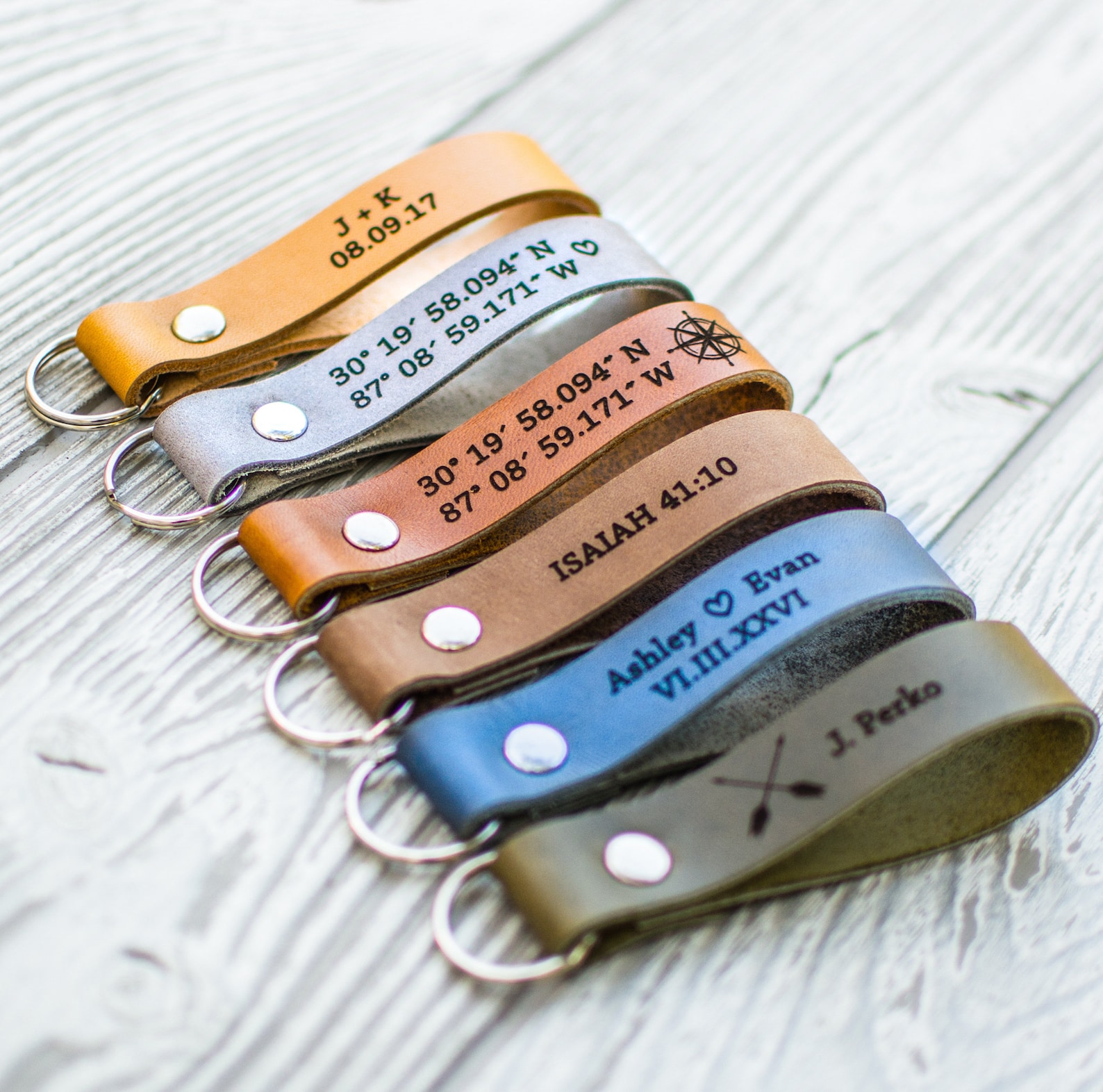 More Gift Ideas for Farmers
There are lots of varieties and styles of these American made boots, I just happened to pick these because I think they're kinda hot.
Hey, I'm human, too! Oh yes, back to practicality...
These are made of real leather with a leather sole. When working, there's a lot of time involved standing. These are great at absorbing impact and are designed to work on uneven or tricky surface.
Reading between the lines, these will help with traction on gravel, oily surfaces or even wet surfaces while keeping the foot cushioned.
People can work and look good while doing everyday tasks, right??
I bought not one, not two but three of these heated lunch boxes for my farmers this year. These plug into the cigarette lighter, though there's a variety that plugs into a wall, too.
You can cook frozen boxed meals or warm your own food while traveling. Next year, I plan to make our own pre-cooked frozen dinners so I can pull them from the freezer to send out for field meals!
On the days I didn't use these, I was happy to provide them with lunch in one of our kid's glitter hearts or John Deere tractor lunchboxes. (ha!)
If you get one of these, you may want to pick up a few of these containers to use inside of it.
There's that Carhartt brown again, but this coat actually comes in six different colors! It's machine washable, it's a number one seller, and I think we all know at least a dozen people who have this coat.
It's worn by many for a reason!
We can't be all work, no play, right??!? This DeWalt Work Radio is great for in the shop, or sitting on the truck tailgate.
It has wireless bluetooth speakers with a 100 foot range, and a phone holder, too. You can go the extra mile and make him a playlist on Spotify!
If you guy has every tool known to man but no tunes, this is the perfect gift idea for farmers!
Talk to any farmer and they'll tell you a story about someone they know that lost a finger or almost lost a finger because they were wearing a ring while working. Sorry, but it's true! #farmlife
These silicone rings from Groove Link are totally comfortable to wear. My husband and I both have one (me in pink, his in black).
There are a variety of styles to choose from and if it somehow gets lost, they're at a price point where you can get another one!
Do you have gift ideas for farmers I should add to the list? Let me know in the comments below!